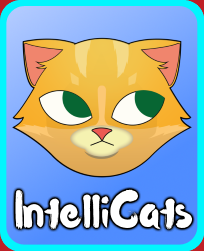 50 Unique Levels!
5 Special Cat Tricks!
3 Difficulty Settings!
Daily Challenges!
Relax with Kitten Mode!
Can you beat Survival Mode?
Intelligent Matching Game... with Cats!
Are you looking for something new in a match 3 game? Well, look no further! IntelliCats™ brings you a new world of exciting and varied matching gameplay to sink your teeth into!

In each level you will be doing something different - matching and moving the cats in different ways in order to light up the board before you run out of moves. You might match groups of 2 cats, 3 cats, or 4 cats. Match them in lines, in triangles, on ramps, or wheels. Swap them, rotate them, jump them, tap them. Each level asks you to envision a new world with new possibilities! Earn Purrs and trade these in for various Cat Tricks to help you clear levels!

What are you waiting for? The IntelliCats need your help! (Oh, did we forget to mention the plot?) Yeah, so there's this elite intelligence agency known as codename Team: IntelliCats. Each IntelliCat has been specifically recruited to tackle some of the world's most pressing problems. And they solve these problems by...err... putting similar cats next to each other in specific ways to make the cats disappear and light up the game board! (It's hard to explain the technical details of how they do it. You just need to experience it!) Experience IntelliCats today!
Screenshots